Safety Production Training
On June 6, according to the general manager's instructions, the whole staff of the company closely investigated potential safety hazards, strengthened workers'safety education, strengthened the supervision of security personnel, made clear the importance of social security and accident insurance, and ensured workers' safety in production and work at ease.

In order to ensure safe production in workshops and safe commuting of employees, the company adheres to the principle of "people-oriented, safety first, prevention-oriented and comprehensive management", and in accordance with the Safety Production Law and relevant laws and regulations of safe production, combined with multimedia and propaganda brochures, goes deep into enterprises, and effectively strengthens the inspection of safe production in workshops and daily work.

"Safety in production is everyone's responsibility." Facts have proved that we can't relax, stop or paralyze safety work for a moment. Companies should strengthen the awareness of "safety is happiness", "safety is responsibility" and "safety is ability". Only by intensifying the law enforcement and inspection of production safety, can the work of production safety be carried out effectively and effectively, thus more effectively promoting the implementation of enterprise production safety.
(Lecturer: Manager Lu)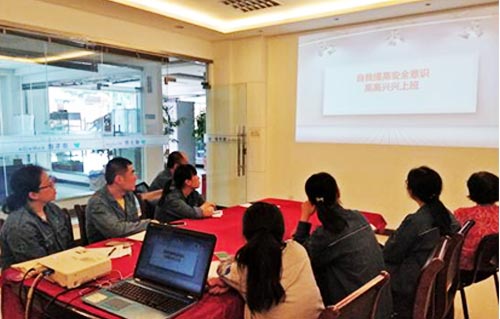 (All staff watch security videos)

Previous: Wisdom's Thailand 6-Day Tour