I. Summarization
KYN28A-24 indoor AC metal armoured pull-out switch cabinet is suitable for three-phase AC 50/60Hz power system, for receiving and distributing power, and for controlling, protecting and testing the circuit. APG epoxy casting and reliable solid insulated bus technology are used in the interior of the product for full insulation design. It has good electric field distribution measures. It is a miniaturized switchgear with advanced technology, stable performance, reasonable structure, convenient use, safety and reliability.
Ⅱ.Characteristics
1. Bus bar adopts thermal shrinkable insulating material or epoxy coated insulation method to optimize the shape of the electrode, make the cabinet structure compact and reduce the occupied area.
2. The cabinet body is made of high-quality cold-bonded steel plate and imported aluminium-zinc coated sheet metal, which are processed by NC sheet metal and connected by high-strength bolts, nuts and rivet nuts.
3. The switchgear equipment has other primary schemes such as cable in-out line, overhead in-out line, bus connection, isolation, voltage transformer, lightning arrester and so on.
4. Insulation boards are installed in bus cabinet, handcart cabinet and cable cabinet, which greatly improves the insulation level.
5. The interlock between main switch, handcart, ground knife switch and cabinet door adopts mandatory mechanical door lock mode to meet the "five-proof" function.
6. Friendly man-machine interface makes switchgear operation programmable and formulaic, and the operator can see it at a glance.
7. The main wiring scheme can reach more than 160 kinds, and has strong structural adaptability, which can meet the needs of different users.
Ⅲ.Type and Meaning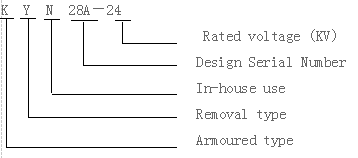 IV. Electrical parameters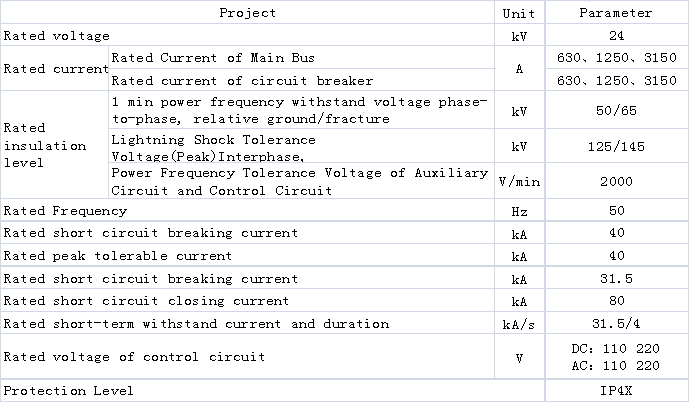 Ⅴ. Instructions for Order
Main wiring scheme, bus system class diagram and arrangement diagram
Secondary wiring schematic diagram, terminal arrangement diagram, such as terminal without arrangement diagram, according to the manufacturer's requirements.
High voltage cabinet plan arrangement and basic drawing.
Switchgear should be used under special environmental conditions when ordering.
When accessories and spare parts are needed, the quantity of their types should be given.
Note: The rated current of 2500 A at 55 C needs forced ventilation.